Pillbox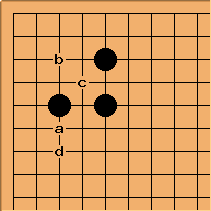 In Japanese this is toochika (トーチカ) , actually an imported Russian word tochka, which means a military pillbox for gun emplacement. It was often employed by Japanese 9p Hasegawa Akira.
There seems to be no standard probe against the pillbox: a, b and c are seen in pro games. The most popular idea for White is to establish a play at d.
This enclosure is considered slightly korigatachi (over-concentrated); one Black stone can be at a. See Meienism.
For some high dan examples of the pillbox in action check out the games of 'somerville' (Yang Huiren) on KGS.
---
---
See also pillbox (The Player)