PJQ 5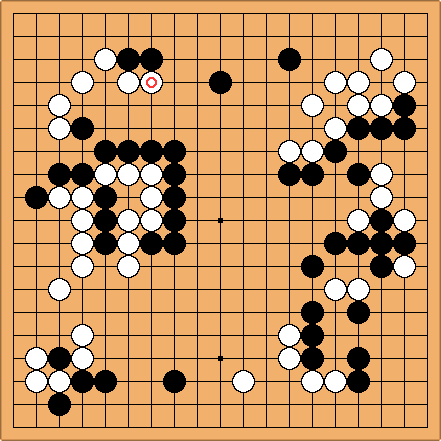 Tapir: Early in the game white took the upper right corner, but failed horribly with his invasion of the right side later. Black succeeded in limiting white's potential on the left and build awful strength as well (due to white tenukying once to play the marked stone). I'm sure that black is way ahead but how much? Alone the black territory on the right is ~56 points in my count, equating roughly to all territory white has + komi. I don't know how to count unstable positions like the upper edge.
Estimate: Black is ahead by at least 25 points on the board. (I = White thought about resigning here, but tried instead.)
Dieter: I think White can indeed continue a little by trying to take advantage of the two weakes black groups, being the one on top and the one bottom left. I can see no effective way to attack them though, so resignation will follow soon.