One Thousand and One Life-and-Death Problems / Problem 719 discussion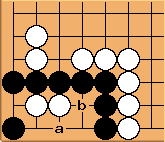 Rich: a is given as the correct answer, but in the book the continuation shows Black killing White. This assumes sub-optimal play by White (a seki obtained by playing at b).
While seki is technically alive, it is less desirable than out-and-out life.
Zook: Seki is often the solution to a life and death problem. If the author decides to give a less optimal variation for the attacker as the main line, it is because many people may miss the point.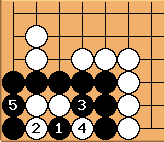 I assume this is the diagram given. Black kills White due to shortage of liberties. White can't make a Bulky Five. That's a point the author assumes to be missed more easily than the seki.
In any case,

is the only solution.