OK, How to Break Out of Beginning Kyu Levels, (Introductory Part)
Please add ISBN so that we can search for these books online. Scans of a couple pages from the middle of the book would be very helpful as well.
OK, How to Break Out of Beginning Kyu Levels, (Introductory Part) (これでOK初級突破法〈基礎編〉 ASIN: 4-14-016077-2 ) by Ishikura Noboru; 220 pages. The first of three books in Ishikura's Breakout series, this grew out of his post-introductory NHK Lectures televised in 1985. It seems aimed at a readership not unlike that for Cho Hun-hyeon's Lectures on Go Techniques; but the choice of topics is different, and tactical nuances are included that should interest stronger players. See the diagrams below to get an idea.
There are five chapters:

Fuseki ABC's

Playing Chinese Style

Middle Game Fighting: Attacking and Defending Stones

Middle Game Fighting: Attacking Moyos

End Game Fighting: Winning at Yose

The first chapter (about 70 pages) is divided into three sections, on 3-4 point fuseki, star point fuseki, and 3-3 invasions under the star point. Standard principles are introduced along the way as needed, and some joseki are presented, not for their own sake but to illustrate the kind of fighting that breaks out naturally as a result of kakaris, pincers, hemming in, and other standard fuseki tactics.
The second chapter is a brief (20 pages) introductory exploration of the Chinese Fuseki.
The third chapter is divided into two sections, devoting about 40 pages to principles of side invasions -- where to invade, survivng an invasion, whether to invade -- and techniques of diagonal contact, pincers, and leaning attacks.
The fourth chapter spends about 60 pages on crosscut fights, more general contact fights, and on entering large moyos and surviving.
The final chapter, 20 pages, illustrates yose principles and tactics on 13 by 13 diagrams.
To help gauge the level, here are a very few sample diagrams, typical of what comes after the most introductory sections.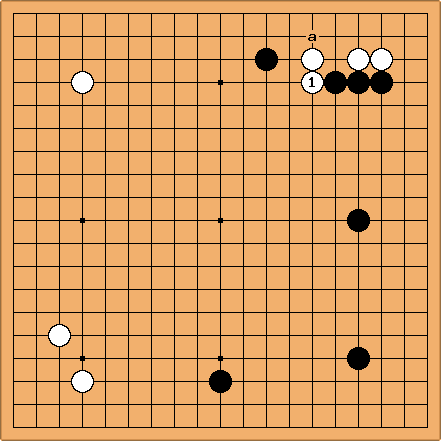 In the san ren sei, what if W plays

instead of the usual Wa?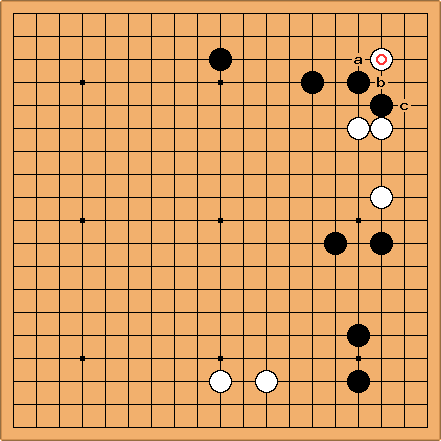 W has just invaded. Possible B responses at a,b, or c are followed up and evaluated, with discussion of when the two inferior responses might be preferable.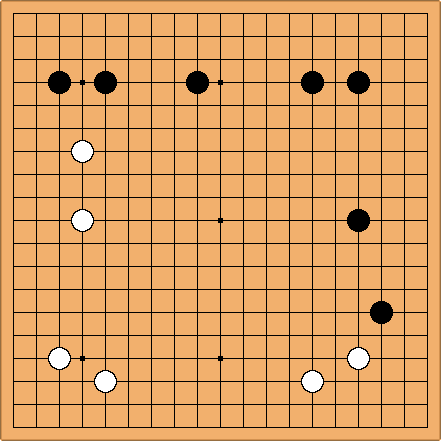 The best W invasion point in the upper right is advocated (the location may surprise some readers), and various good and bad follow-up sequences are considered.

Naturally, a book of this sort is not comprehensive on any one topic; but it is a lucid, cohesive selection of interesting and very practical examples, including instructive wrong answer diagrams, all designed to propel a player to the next stage.
--FredK
See Also: