Mineshaft tesuji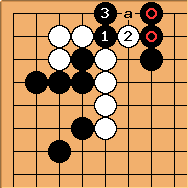 The "mineshaft tesuji" is a term coined at SL.

cuts, then responds to the atari of

with a descent. Now White cannot play at a due to shortage of liberties induced by the marked black stones. The term "mineshaft" comes from the image generated by

,

and the

stones, of a shaft in which it is too dangerous to descend.
There is no Japanese, Chinese or Korean go term we know of, describing this particular technique. There may be none, because it's a mere application of shortage of liberties or even more specific, a kind of watari.