MigeruVsAlexWeldonJosekiDiscussion
Should Black just play tenuki instead of

? - Migeru
---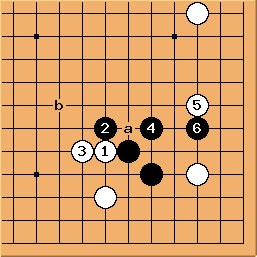 Alex Weldon: Without much reading, just a bit of instinct, I'd say this for

is worth thinking about, at least. I didn't like your move

in the corner,since it gives me a fair amount of territory and doesn't really settle your group (you took sente, so you still only have a half-eye; I can remove it in gote later, if need be). Of course, I suppose you were expecting me to hane the other way and let you draw back...
Charles Matthews Here there is a good point for central influence, with Black at b. But for that

ought to be played at a.
---
Dieter: see Ishida why

, though natural, is not preferable here.
Charles But that is old thinking - see 1.2 at 3-4 point high approach one-space low pincer for modern variations.