light play example 4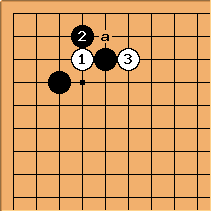 This position was used on the sabaki page, where White 3 at a was discussed. White 3 as shown is another way to play, which is light in the way it discards White 1.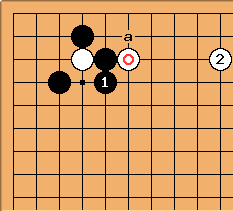 This, from a recent Korean pro game, is interesting as an example of light play that avoids close involvement. If Black 1 at a, White plays atari at 1 and Black has a rather low position. White's extension at 2 has a feeling of pace - no current need to save the marked stone.
---
Bill: Still, I have questions about the whole thing.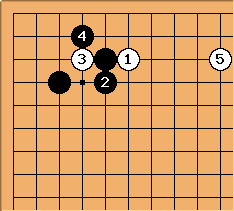 In response to

,

is perhaps a bit passive, but then the exchange,

-

, seems bad for White. While

is nice and light, White's play in the corner seems questionable.
Charles Well - I was once told by a 6 dan to beware of sequences where both sides make mistakes. How to lie with tewari, that kind of thing.
Bill: Who said that

was a mistake? Okubo says that it is solid (kenjitsu), but that White can regard

as kikashi (Shimari Joseki, p. 100, Nihon Kiin, 1971).