Kuksu 47 Game 4 Midgame Center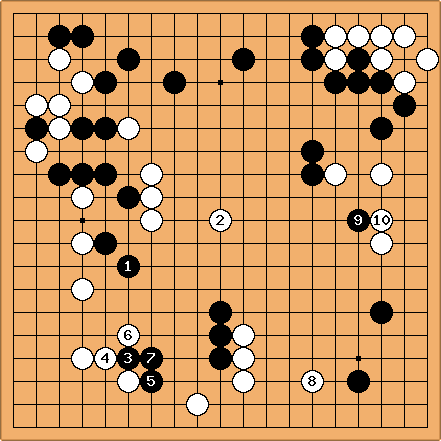 both makes a living space in the center and attacks the black stonest at the bottom.
After

black threaten to cut off white stones to the right and

both makes a defence and threates with an invasion into shimari.

is a start of the plan to strengthen the enclosure in the right bottom corner.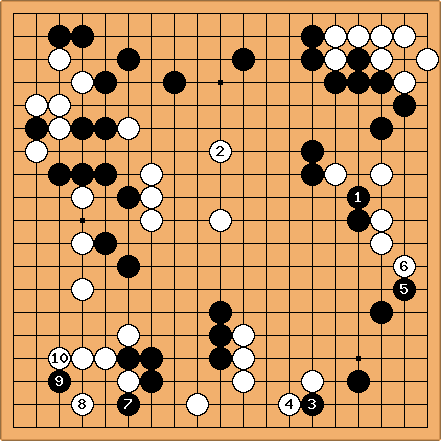 HolIgor:

. It seems that Yi Ch'ang-ho wants to play his style safe game. I would try to press the black stones at the bottom.
HolIgor:

is again a mysterious move. I think that this prevents the attack against the corner but I don't see how.
HolIgor: If instead of

white cuts this stone off black protects the corner easily.
HolIgor:

is very interesting. It is fun to see how the corner is protected by solididfying the boundaries and attacking at the same time.
HolIgor:

prevents trouble, yet the nozoki is still there.
HolIgor:

is concerned with the stability of the bottom stones and

is a wonderful reply. Black does not get eyes yet the corner is protected.
HolIgor: I don't understand the necessity of this kikashi.
HolIgor:

protects the corner. It works well with

.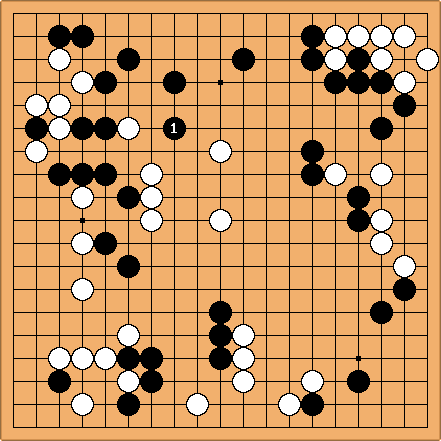 HolIgor:

(81) protects against the cut and is the last move in the maneuvering part of the middle game. What follows is a prelude to the melee.