Ko threat amplification
Enlarging the value of a ko threat, normally before the ko fight starts and usually by means of forcing plays that could themselves serve as threats. That is, in the typical case one player uses a sente sequence in advance of a fight to make a trade-off between number and size of threats available in some part of the board.
---
tderz: I wonder whether move W173 in this game serves as ko threat amplifier.
I think that this game is an example:
Jowa vs. Shinomiya Yonezo (2H-game, 1821) move 173 by Jowa:
the ko is at B172
later W183 and W189 are much bigger threats than the initial W173:

(source: mindzine article)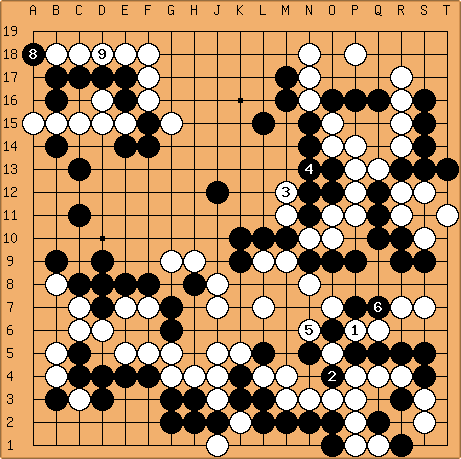 7 at O15
10 at O14
However, because this is complicated stuff, consider my contribution as a question. What is your opinion w.r.t. W173?