Kiseong 12 Game 1 Top Right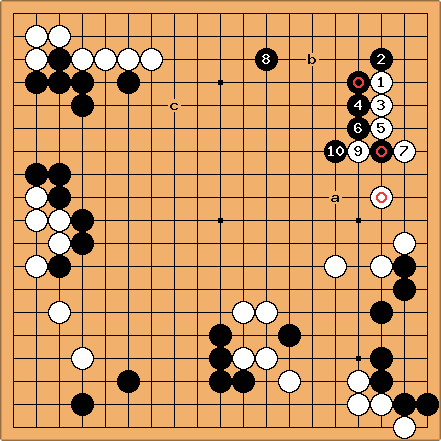 : HolIgor: Ka-boom! I would appreciate if anybody explains to me why this is better than any other attack of the corner.
Dave This is an extremely unusual choice in professional games. Considering just the pattern of marked stones, the most common next play by White is the jump to a, normally to protect weak stones on the right. However, White's shape is flexible here and Yu likes to fight, so...
The next most common play is to approach from the wide side at b (or to hold back somewhat and play around 8). This seems natural here because of the White stones on the upper left. However, those stones are low and White may not have wanted to increase the value of a Black play at c by creating an area of White influence at the top for c to reduce.

: HolIgor: Naturally, black chooses the corner.

: HolIgor: What a nice move. Dieter : See [1].
---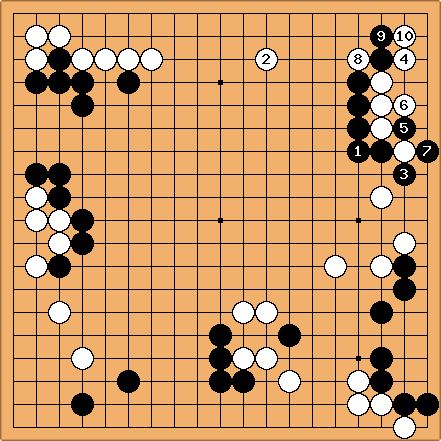 Dieter: I don't really get [1] Black 8 in the above. If

here, what will White do ? This looks too good fo Black. If

at

, Black has no good extension is that the point ?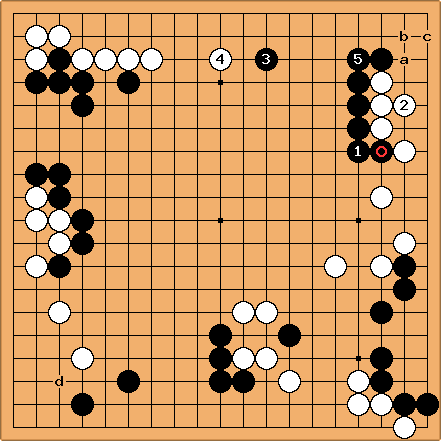 Dave What if White answers

with

here? Now if Black tries to make the same extention with

and connects with

, White has sente and is left with a big play at a, etc. for later. In the game Black uses his sente to play d. If White plays there instead at the end of this diagram, does it make up for not capturing the marked stone?