Killable Eyeshapes Introductory
For fully enclosed eyes outside of the corner there are a few critical eye shapes such that one the opponent has a play inside to prevent a second eye and possibly kill (depending on the surroundings). These shapes may all be derived from the Greek cross.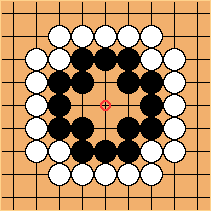 The basic critical shape is the Greek cross, and the critical point is the center (marked). Black plays there to live. If White plays there Black dies.

From this shape we derive smaller critical shapes: subshapes of the Greek cross that contain the central point and have at least 3 points.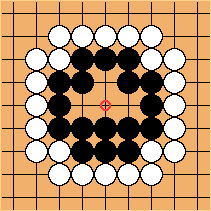 The critical point is still the center of the cross.

In addition, we derive two more critical shapes by adding a point to one L of the cross to make it a square. These shapes have 5 and 6 points.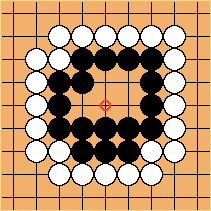 In all of these critical shapes the critical point is the center of the cross.

There are other critical shapes in the corner that depend on shortage of liberties.
-- Bill Spight
---
See also