Klaus: Having

in place, the sequence

,

,

is a standard idea to make white heavy in order to attack. Of course, Black global position is unsatisfactory because of the heavy dango of

, but that is another story.
Bill: What other story?
PatrickB: I agree - is it another story? This makes white a little heavier, but black has more heavier stones on the board that also don't have as much aji nearby that I can see. I mean, I'm not that strong, but how does black respond to a white play around a now, for example? To me, it looks like either:
The black stone at the top hoshi starts looking lonely because the 1-2 exchange if black attends to his heavy stones on the left side (probably in gote), or
The marked black group in the upper left gets into some serious trouble, and this group is bigger, heavier, and has less nearby aji than the black stones in the upper right...
Of course, I could be seriously wrong about this...
PatrickB: (Followup) Hmm, a black forcing move at b after white a and before defending on the left might actually be a problem for the idea of a white play at a. White starting at b aiming at a seems sketchy as well, as that in turn weakens whites marked stones...


SnotNose: The main question in my mind is: what damage can White do with two targets, the

stones and the

stone? Here are some possible continuations, with the aim of a double attack. I'm not sure any works well. Perhaps there is something better?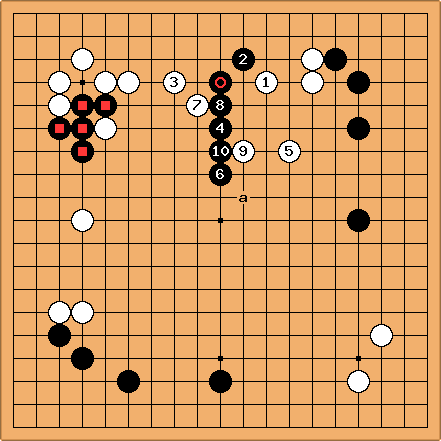 White a next? If Black moves to the left, White will split between the two baseless groups. Still, I'm not happy with White's initial plays since she has to work hard to make a resilient shape before attacking.
---
Klaus: I think the discussion has been misleading in one major point: Black might choose to threaten

as dead, but having aji. Maybe this is his only chance to win the game. With his forcing sequence he might at least produce one weak white group to attack, if nothing else look appealing. Maybe white decides to use some moves to attack the "dead" stones soon and black attack becomes sever.
Black has to do something because keeping the rest of his stones safe will not do the trick! I think it was Sakata Eio who once said it is better to be a broken piece of jade than an intact piece of glass. (I am not sure about this quotation, but it is supposed to mean that losing safely is not to be recommended.)
---
DJ: Mmmhh... It seems to me that this discussion, interesting as it may be, lost sight of the original question: Is

a good forcing move?
(Side comment: I have a feeling that sidetracking sometimes happens on SL... One of this days I will write Lack of focus in the Library?... :-)
BTW, let me sidetrack too: forcing play here is evidently not the same of kikashi, it carries more the meaning of ''sente play, doesn't it?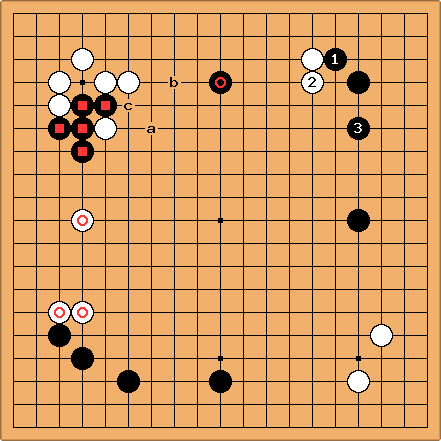 Well, is

a good forcing move? No, if you ask me... the lowest of the 2k. (I have pasted here the starting position for convenience)


may be heavy but it has the effect of weakening

(still, not to the point of Black considering the possibility to sacrifice it%%%
Klaus: sorry, sorry, sorry, I wanted to sacrifice the dangoid , and certainly not !!! Sorry!).
DJ Well, I think the dangoid? is not sacrificeable either... :-) Klaus: It is! If white should start attacking it at once, black might choose to attack fist. If this group gets captured on a large scale, black might be back in game. (By the way, we are not playing chess, so any group can be sacrificed :))
As I see the position,

should have been played to strengthen the black group on the TR: this group may have a dangoid shape, but it carries some thickness nevertheless (see the dead white stone stuck to it...).

As it is, IMVVHO the position is pretty fluid: both players have groups with unsatisfactory shape, and none of them can really engineer a severe attack. I think that the move PatrickB suggested (a) goes in the right direction if White wants to accomplish something. A Black play at b could maybe be answered by White c, at which moment the black dangoid has to run somewhere: the question then is: while running can it try to counter-attack White's

group below? Will it endanger some more its friends

and black b?

If I had to play as White, I would try to avoid committing myself toward my two stones in the TL, and move instead toward the dangoid, trying to build some thickness against it. I would then use this thickness to go in help of the mentioned two stones, if possible attacking

in the process and winning 10M Euros at the Lottery while I am at it... (Who am I, the Kisei of Lady Luck??!?)

I wouldn't like a Black play at c, so I may play there myself... Difficult, neh?
Bill: The boshi at c in the original diagram is worth thinking about.