Hitachi Number 314 / Intermediate - Attempts
---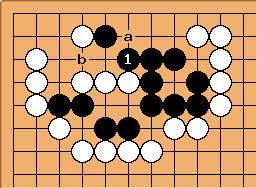 unkx80: There is the possibility of Black playing at 1. I find it very tricky...
TakeNGive: That was my first approach. It doesn't work, does it? A white monkey jump destroys any possible black eye, I think.
unkx80: On the suggestion of the monkey jump, I think that White will have to beware of Black connecting in the vicinity of a, so that the wedge at b comes alive again.
---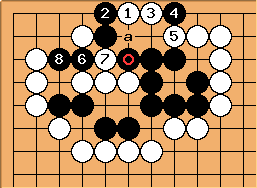 Black sacrifices a stone at 4, and wedges at 6. After Black 8, White is caught in a shortage of liberties and hence cannot play at a. So if I didn't read anything wrongly, the monkey jump will not work.
---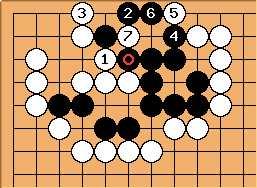 unkx80: How is White 1? If Black tries to make the second eye at 2, the tesuji from 3 to 7 will render it a false eye.
Turns out that this is exactly their Wrong Answer diagram...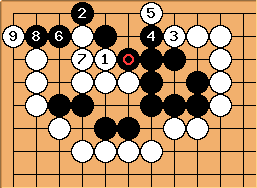 unkx80: Black 2 tries to open up a ko, but White 3 and 5 destroy the eye at the side. It is not possible for Black to form an eye in the corner.
Any corrections?
---
Unkx80, you convinced me you are the lazy type. If ever you are in Belgium, can you drop by in our club to teach us how to approach a life and death problem ? With this kind of lazy attitude please. Dieter
LoL. If only I really analysed so much in my own games! =P --unkx80