Heavy Ko
For an explanation, see light ko. Here's an example.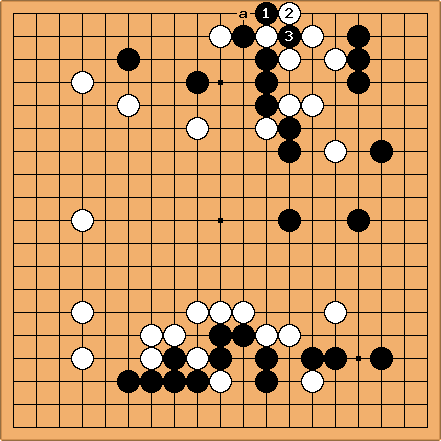 White has invaded the top and created a resilient group. Black has decided to start the ko at

, while it may have been better to descend at a. The ko is heavy for Black, because this was originally his sphere of influence. Also, White appears to have more overall thickness, hence more ko threats. The question is if the ko is actually light for White: the potential loss is big and Black has been strengthened at the outside. So maybe this is an game deciding ko.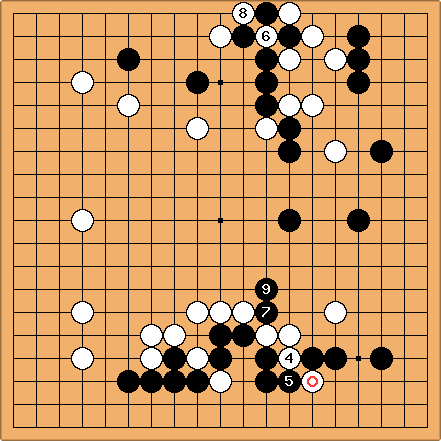 is the first threat.

answers and White recaptures. Then

threatens to cut off the White group below. White does not answer and finishes the ko.

executes the cut.
In the game the White group proved to be rather light. There is room at this side and aji in the corner due to the marked stone. In retrospect,

may not have been big enough. But that was about the biggest threat, so this was a heavy ko indeed. Let's see what happens if Black did not answer White's threat.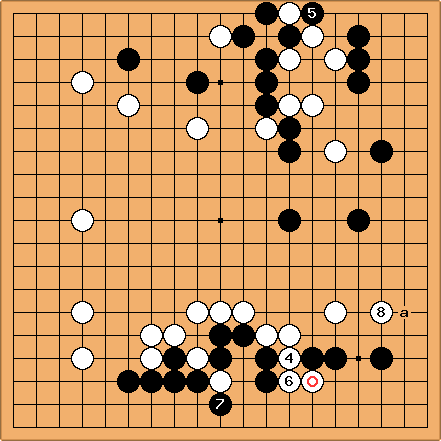 The roles are reversed now. Black has a huge gain at the top.

reduces the damage at the bottom and now White has to prove that

was big enough. The attack on the corner stones is not easy, with the attachment at a as a resource.
Perhaps this was an game deciding ko after all. But it was definitely a heavy one.