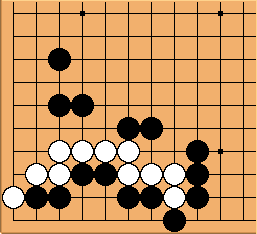 Black has a flying saucer shape connected underneath to his outside stones. Still, there are enough weaknesses for White to exploit.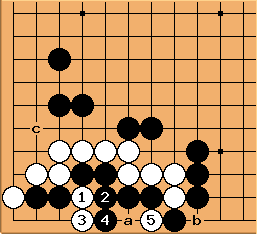 After

, Black must capture two stones: shortage of liberties prevents him from playing at a. White captures at b to isolate Black's one-eyed group.


In spite of the me ari me nashi proverb (Black destroys an eye at c), White will win this race to capture (semeai) because she has many more outside liberties. Personally I prefer the theory by Richard Hunter on Counting Liberties to the superficial proverb.
---
Later on, I will post the continuation, including the capturing race, as well as some variations.
---
With respect to the main line, Black has captured two stones with

, and White one stone with

, and the captured stones are removed.


Now suppose there is an extra stone

to prevent White from escaping. Black has time to destroy White's eye with

.

destroys the possibility of ko and both players continue to fill each other's liberties.

puts Black in atari while the white group still has four liberties. Of course White could have played tenuki two times and Black shouldn't have played this sequence in the first place, since it's a terrible loss of ko threats
---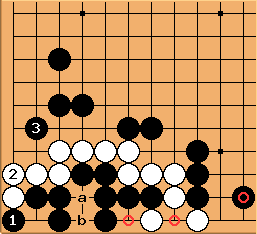 Another option for Black is to play

first, creating a ko and threatening to make an eye. White calmly connects. If we exchange a and b, Black has four liberties: the two circled ones, one in the eye and the one in the ko, which White will play as an atari.


Compared to this, White has eight liberties, plus one in the ko, and she may start. So, Black will only be able to capture White if he ignores five of her ko threats while she never ignores any of his. This is a five move approach ko. Technically, White is not alive. Practically speaking, she is.
---
The original diagram does not contain

, so White either escapes or prevents the approach ko, and she is technically alive.
---
Go to Problem 55