Gokyo Shumyo, Section 1, Problem 10b / Solution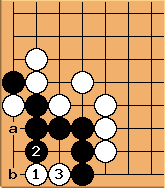 Since 1 was the vital point in Gokyo Shumyo, Section 1, Problem 10 / Solution, and Black neglected playing there, White may think first of playing there. And a good idea it is. Black's only resistance is 2, but White 3 makes miai of A and B, where the continuation Black A White B results in a bent four in the corner.
---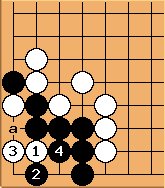 White 1 here is wrong. Black remembers the vital point and plays 2. 3 and 4 are kind of miai. After 4, White can't connect at A, for capturing four stones will give Black a second eye.
---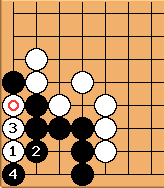 Now even if

throws in at

, Black has two eyes.
---
Problem 11
Back to Kanazawa Tesuji Series