Gang Malkovich 1
---
Note to guests: this is a 5-person game, and if you are not one of the five, please don't kibbitz. If you want to follow the excitement, it's

here.
Discussion Archive:
Long-term discussion:
Editing
topazg I propose leaving the following at the top of the page to keep things concise and flowing:
New board per move and position, additional boards where variations are required.
When exchange has matured, trim / format contribution so it appears more like an edited publishable discussion
daniel the smith Also:
Never remove a label from a diagram; if you need to, make a new diagram instead.
Always add to the end of the conversation about the current move. Don't edit or add comments in the middle. This will make the conversation easy to follow for observers without needing major edits (which, I predict, none of us will actually want to do).
You mean never remove a diagram from a label? *Shrug* I suppose both rules are good.
I agree: append, don't insert. But not too much deleting during the editing.
daniel the smith: I meant if there's an a on the diagram, don't take it off because some comment probably refers to it. But yes.
---
Game
Discussion for Black 42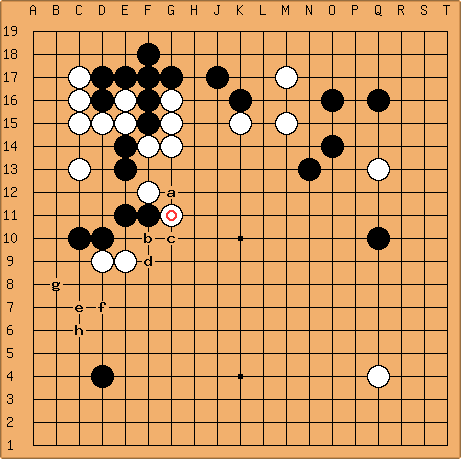 JoazBanbeck I showed every reasonable reply that I can think of. My favorite is 'e'.
daniel the smith I think: a is out (white answers at c). I don't like e or f, because we might want to play g later for an emergency eye on the side. I'd prefer g to e or f, but I think most important is to keep white from getting a center dominating ponnuki/wall/et cetera, if at all possible. I think I prefer b directly. I added some diagrams.
Dusk Eagle It's hard for me to know whether e or f are good moves or not. I can see their merits, but I have a fear Magicwand will somehow capture our group if we play them. Right now, I'm thinking 0.5 for e, 0.5 for b.
JoazBanbeck He can't capture after 'e'. See diagram 42.E.2
BTW, move 'h' is yet another possibility. See diagram 42.H.1
---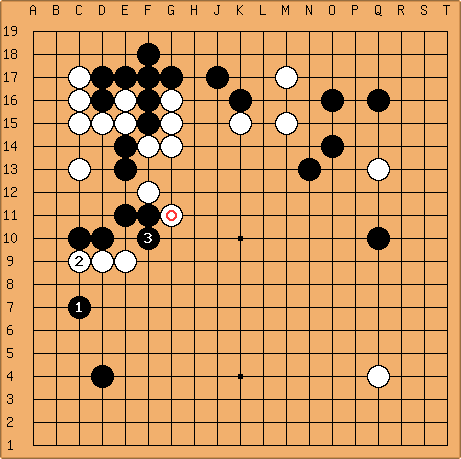 JoazBanbeckWe are going to have to fight our way out - probably with 'b' ( 3 in this diagram ). Let's make him heavy first. Then we can attack him while running.
---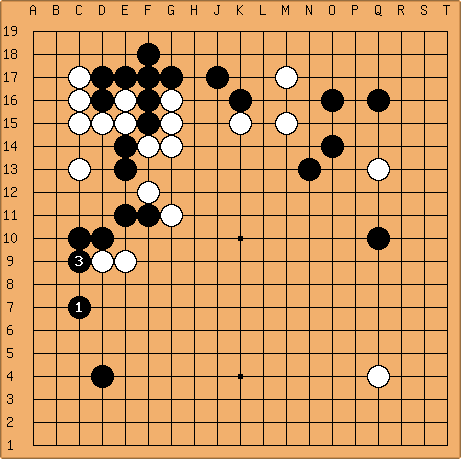 JoazBanbeckPut :w2: where you wish. Black lives. ( And makes territory. )
---
---
---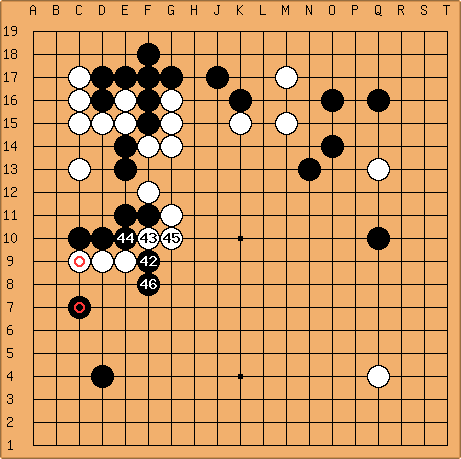 JoazBanbeck What does 'd' look like if the marked stones have been exchanged first?
daniel the smith I think white just descends to B 9 and then we're screwed.
JoazBanbeck I think you're right. Ok, that puts 'd' out of the running, IMHO.
---
---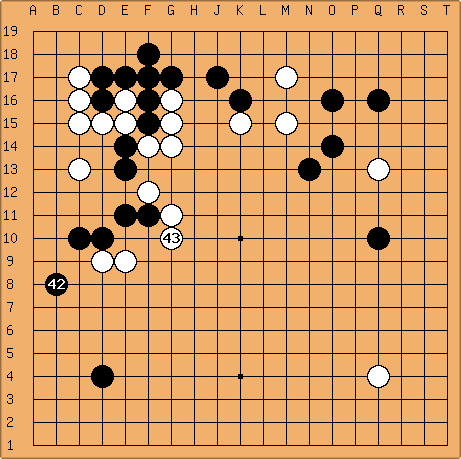 daniel the smith Clearly this isn't good atm.
---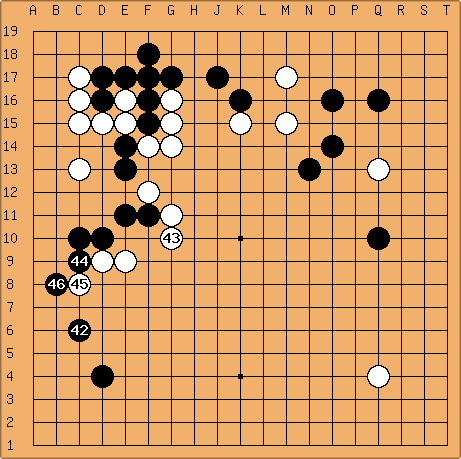 Joaz BanbeckMove 'h' also works despite white's most vigorous attempts to cut.
---
---
Voting
Joaz Banbeck Guys, I'd like to clarify the voting process. I thought that everyone had 24 hours to get an opinion in. But the last three moves have apparently been made with only 4 people, and if my clock is correct, they have been made in less than 24 hours.
Daniel didn't get to vote on move 12. I didn't get to vote on move 14/16. Nor did I get to vote on move 18. Ok, I'll grant you that 12 was a no brainer and that 14/16 was forced. But I still object in principle. On move 18, not only do I object in principle, but I sincerely believe that you guys chose an inferior move.
daniel the smith Agree, there should be 24 hours for everyone to check in.
topazg I apologise, I clearly made a bad judgement. I assumed with 4/5 people agreeing with the same move it would happen regardless. I'd forgotten we had a hard min-24-hour rule, and it does make a lot of sense :)