Jan: I'll have a shot at this one, my guess is b is the answer (

in the first diagram). White sets up a double wing formation and Black is going to have plenty of trouble reducing that territory. Black will probably reply either by extending from his lower left stone to around a thus pressuring White's lone stone in the upper right (White can then play 'd' or on the third line) or making a kakari at e but White can still live there or escape into the center, backed up by his double wing formation.
DJ: Playing a double kakari - but in this case I would call such a move a pincer - is rarely meant as a direct threat to kill the pincered stone.
Usually the idea is to make it live locally, building influence in return, or to set it running, getting advantages while chasing it.
So what you saw as a drawback is usually a welcome situation...
In this specific situation you could consider a pincer at k.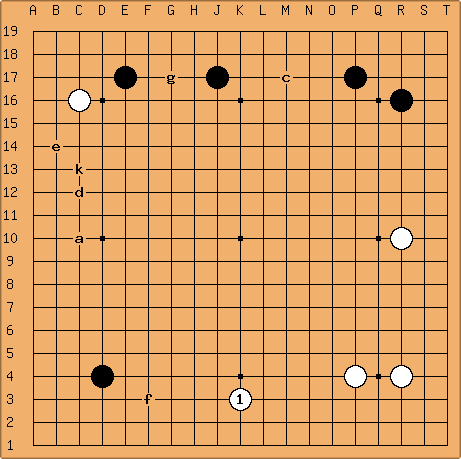 Here are the reasons why I didn't choose the other options:
White a provokes Black at

. White still isn't guaranteed of territory in the upper left and has way less in the lower right.
White c is clearly (to me at least) pointless, that stone doesn't stand a snowball's chance in hell :-) There's no sense in giving Black such an easy target to attack.
DJ: Very gooooood...
---
If I would play this in a real game, I think I'd make a kakari on the lower left (at f) and then play around

(the precise place depending on whether Black extends from his LL stone or makes a pincer), but that was not an option here. In my opinion, this is not really a basic problem :-)
DJ: Oh, well! I agree... See my comments to Dieter advice in the starting page.
---
Omni?:

is good, because it makes a double wing formation, and the high enclosure in the lower right wants a low extension.
To deal with the upper left corner doesnt seems urgent, because if black made a double approach, white can use the weakness at g, eg. build pressure on the approaching stone to get thick and come in at g later.
---
Move on to: Fuseki Exercise 6
Move on to: /Solution