Dango from game 1
Phlegmatic: Here's an example of an incredible dango that my opponent created: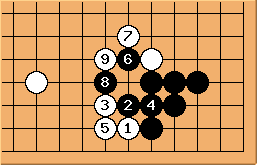 In this sequence it became clear to me why the proverb says Beginners Play Atari, although my responses were atari plays too, so who am I to talk?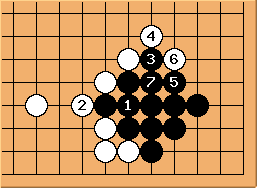 I think it's true to say that here are 13 black stones that have only 5 liberties, and have captured no firm territory yet (and only 3 white stones). I guess heavy and inefficient are the polite terms for this scenario...
This made me think of the dango as a kind of cancerous tumour growing in the heart of one's play, drawing in the host's strength and storing up trouble for the future. Characterising them in that way will definitely help me focus my mind on dango-avoidance in future.
-- Phlegmatic (19kyu KGS)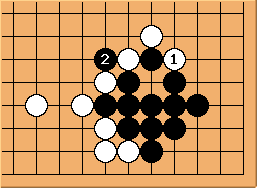 unkx80: Certainly Black can play double atari here?
Phlegmatic: Black was showing a stubborn refusal to sacrifice stones that, to my shame, was making me get careless. If Black had played

here, it would be no less than I deserved.
---
Jan: Black 4 in the 'the dango swells' diagram seems at first glance very silly to me. Surely Black can play 4 at White 5?
Dieter: Given the peculiar form of the dango I am sure he was under some kind of influence.
BadShape: Yeah, that's pretty extreme for normal Go. However, this is not a big dango at all by the standards of the Go variant called

Dango, where captured stones are moved, not removed, so you can use them to fill in an opponent's eyes. I still recall when a friend and I achieved the ultimate dango feat - an entire board seki, consisting of just two groups. Boy, how we laughed about how silly that looked. Maybe we were under some sort of influence too.
Frodosquall?: If you compare to the previous one, a white stone has been removed from the diagram that was not yet dead at this point.
---