lavalyn doesn't need to kill Black, just
Play on the point of symmetry is a good rule in such positions.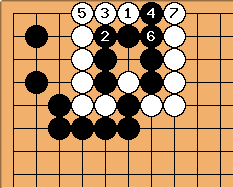 Black is caught in a snapback.
Snapback again.
Capturing

instead of

with

loses ALL the Black stones in White's walls when White captures the two lefthand Black stones with

.
Gorobei: Um, you mean ALL the stones in Black's walls?
lavalyn: no, I mean White lives and Black dies if Black tries to capture the connecting stone.
Gorobei: Ah, "inside" versus "in." E.g. "the box is in the wall," vs "the prisoner is inside the walls." English is a wonderful language :)
Bill: I took it upon myself to edit for clarity. Is it OK now?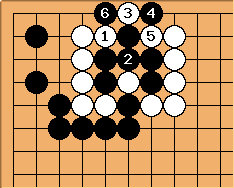 Guest: Actually i don't see, why

is a mistake.

is one for sure, but if you place

on

instead, the black group is lost and the white group on the left is save.
If

on

, black can play

on

and the white stones are cut off.
---
Gabriel: And if Black answers

?

is the only correct follow up, otherwise the White stones are immediately cut off, but this allows Black to capture

and close them off still.
Reuven: This path was already shown above, up to

which put the two stones in atari, making miai of a and b.
---