Beginner Exercise 56 / Solution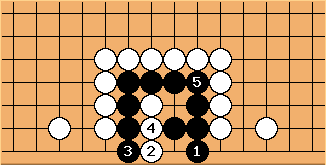 The descent at

is key for life. If

makes a placement, then

and

forms a seki. This is the main line.
// Isn't

unnecessary? -Heikki
JoelR: It is necessary. If White gets

and the point to the left of

, Black's left side is in atari.
If

plays the hane, then

divides the eye space into two eyes very nicely. White cannot cut at a because of shortage of liberties.
---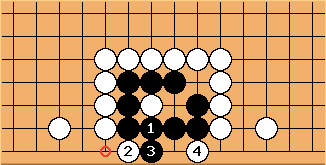 doesn't live. White kills with

and

. Black can capture

by playing at

but this only creates a false eye.
I thought maybe I had seen something when I started to run these through, but soon answered my own question.

is no good either.
---
See also:
---