Beginner Exercise 229 / Solution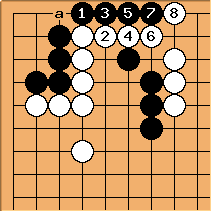 White should simply retreat from

to

, not allowing Black to play a in sente. When

crawls further,

can block because this is a tiger's mouth. So Black dies as explained in the L-group page.
If white plays

, then

threatens to make a living shape (see the L-group page for details). If white tries to kill with

, then black connects to the outside with

. Alternatively, white could try

at

, but then black lives by playing

at a.
---