An example of removing a local threat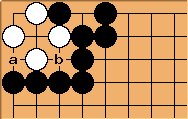 In this corner shape, a and b are miai to make the eye false after Black winning the ko.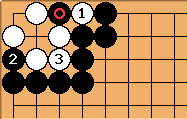 If White takes the ko first, Black plays one of the miai points as the first ko threat and takes back the ko (

at

).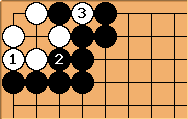 White should play one of the miai points first and then take the ko. Now Black must seek for the first ko threat elsewhere.
Since this local ko threat is also a mutual ko threat, this illustrates the principle of removing mutual threats before starting a ko.