4-4 Point Low Approach, Low Extension, 3-Space Mixed Extension
See parent joseki article: 4-4 point low approach low extension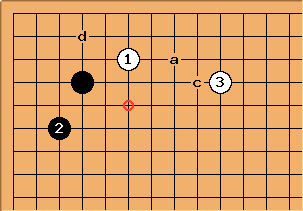 The 4-4 Point Low Approach, Small Knight Extension, Three-Spaced Mixed Extension is a popular response to the Small Knight Extension. It is often played to develop a fast framework and emphasizes outside influence, but it can be easily invaded.
It is seen in a number of fuseki, particularly the Kobayashi Fuseki and in modern go with white threatening to build a moyo on the top.
Once White plays

, this joseki is settled and it is an even result.
Professional players typically leave this position alone and tenuki until the middle game, during which Black may attempt invasions and reductions. White has a large follow-up with a one-space jump at the circle marked point.
Joseki Theory
Continuations for Black
See related article: Three-space extension invasions
Continuations for White
History
The mixed three-space extension began to be popular in professional play starting in the 1990s. It remains popular in professional and amateur games up until today.[1]
References
[1] Frequency statistics were obtained from Waltheri's Go Pattern Search using the full database restrained to a local search (accessed August 2021).