44 Point Low Approach Attach / Discussion
gambino21: What is a good response to the pincer at 3? I think that 'a' would be a good response. What about 'b' or 'c'?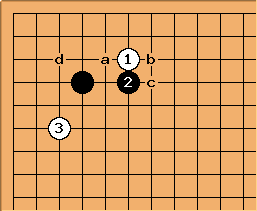 unkx80: c is too passive. As for a or b, I can't tell right now whether which is better, but a seems to be a good choice.
Bill: Don't forget d.
And I wouldn't call

a pincer. A double kakari, maybe. But why dignify it with a name? It is inconsistent. If White wanted to play

, better not play

first.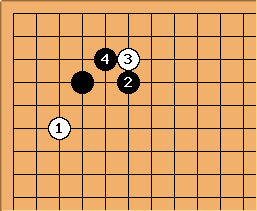 are perfectly common moves.

is a very strange move. Perhaps this move order inversion clarifies the already apparent strangeness. In local context,

is the only move: the hane reduces the white stone to 2 liberties, while making a hanging connection. A wider context may justify other moves. Dieter
---
It seems like, as a rough guideline, white should wedge if possible, and hane otherwise. Is that reasonable? -Martin
Andy: This isn't strange at all, it is a standard double kakari transposition. see 44PointDoubleLowApproachAttach