4473 enclosure 3-3 invasion, block on inner side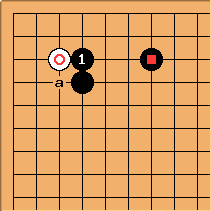 When Black plays at

here in reply to the 3-3 invasion

, there will be some important reason to do with strategy.


If

were closer, the play at

would be weak. As it is, it is somewhat overconcentrated. Black may intend to recapture the corner, as in the main line below. This may well depend on a ladder relationship.
This idea occurs quite often in pro games, from Shusai's time to today.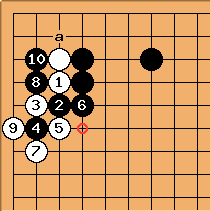 This is the most common continuation. Black recaptures the corner, apparently in gote.


Note that Black may only want to play this when

at

can be answered by capturing

in a ladder.
After these plays, White at the circled point is very big: it can create shortage of liberties for Black after White at a.