4-4 7-3 enclosure 3-3 invasion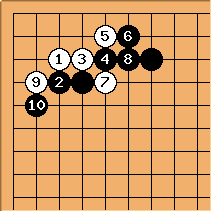 This is the main variation of White's 3-3 invasion of the enclosure.

may also be played at

(see below).
Tapir: What happens after

at

? When black needs sente this may be better. Why isn't it mentioned at all? (Or is the inside hane preferred then?)

For

at

see 4473 enclosure 3-3 invasion, block on inner side.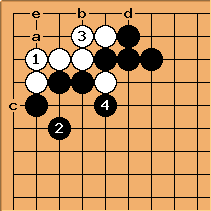 tderz

or b.
Bd is then sente, White replies with e.
No matter how White connects, there is always a Black threat from the side.
Dave: However, the threat is different (which may affect the choice of connection), see below.
This is the standard line, and White ends in sente. The White group is an L+2-group and is alive. Black though has considerable influence now.
Variants:
at a, challenging to a ko.
at b. This affects forcing moves (Black d is then sente against the corner), and endgame plays in the corner. With as played, Black c threatens a ko in the corner.
Black on occasion omits net example 5, but then White at causes a fight.
Different Connection - Different Threats:

Dave: With the solid connection here is sente. White can not live unconditionally if Black plays next at . White is caught in dame zumari after and can not intercept at a. If were not on the board, White would live. Here White has no choice but to start a ko with 6 at 7. This is an indirect ko. Playing b instead of 1 does not threaten White.
Dave: With the hanging connection, White dies outright after and . The play at a instead of 1 does not threaten White.
---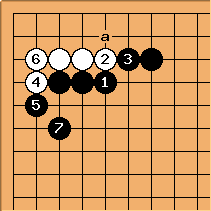 Black may also play

this way. Then

(or a) lives.

here is proper, but may be omitted: if Black wants to end in sente here it may make sense to play

in this manner, rather than follow the above main variation.
Dave: Note that this is significantly more common than 6 in actual professional play.
Dave: At this point Black usually plays tenuki but may force with a first.
---
Dieter: Question.

at a reduces the corner to an L+1-group, whose status depends on sente. So Black can play a in sente ?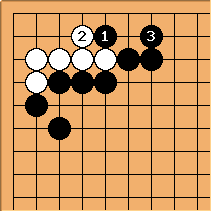 Here

is certainly a good kikashi against the corner. And

here is a useful way to follow it up, for fighting purposes, since it still threatens the corner. It is unlikely to be the correct endgame play, though, in typical situations.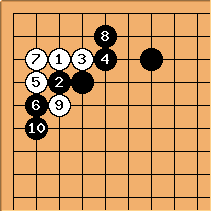 Dieter: If White inverts the order, he'll get into trouble with

. Black can answer the cut at

. Next, ...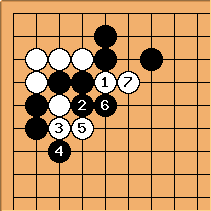 ... the fight is influenced by neighbouring stones. If Black is strong in the area, White cannot hope for much. Therefor, ...
---