3-4 point high approach two-space high pincer ogeima bump
This variation, in which

bumps against White's original approach stone, leads to very tough fights in which the surrounding context plays a significant role (That is, the whole board becomes part of the local, tactical issue whereas one should of course always take the whole board into account strategically when choosing a joseki).
There are three possible continuations for White, as shown by a database search on gobase's collection. These are a (downward atari), b (stretch) and more rarely c (sideways atari). We currently expose the main continuations only (a kind of widest path).

Stretch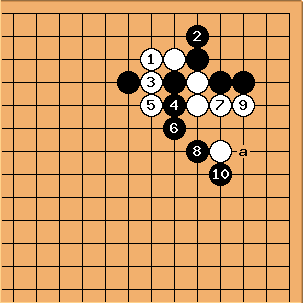 This widest is also the best solution according to Ishida's dictionary.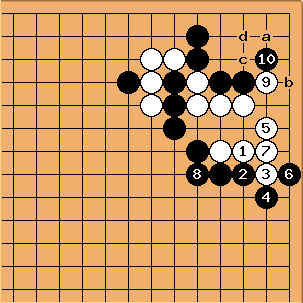 In the continuation, White takes the corner by playing 11 at a. Some comments:
At , Black can defend the corner stones at d, but then his centre stones will become weak.
and are just a forcing exchange.
At the cut would be too tough for Black to defend the corner insteead.
If Black answers a at b, White cuts at c.
Downward atari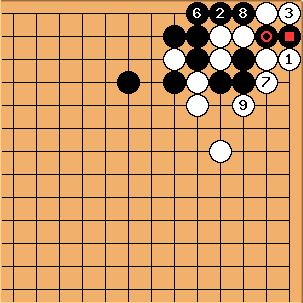 at

;

at

;

at

Althought this variation features one of the more delicate tesuji, the stone tower tesuji I think it is called, it ends peacefully with both taking a small part of the corner and a couple of stones. Ishida calls this result inferior but playable.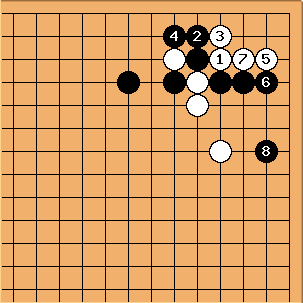 unkx80: How to answer

and

?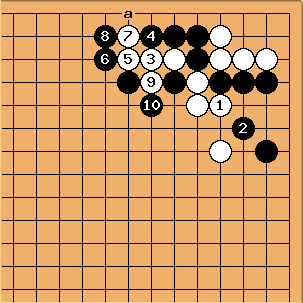 Dieter: Can't White play a due to the

-

exchange?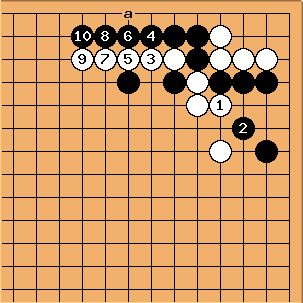 Sideways atari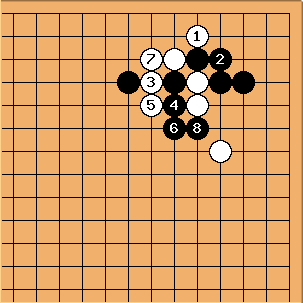 In this variation, White allows for a very big Black corner, in exchange for sente and influence along the top. Ishida dismisses this variation, being resourceless. Yet it is found in pro games, probably because of the global conditions.
---