3-3 point invasion query 2
Moved from 3-3 point invasion.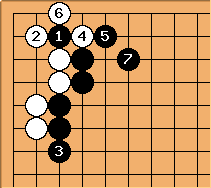 Agt: What if Black plays

instead of

- Should White play

then ?
Andre Engels: For White to play at

is a possibility: whether it is good depends on the situation. White is giving away the corner for a position on the side. One cannot in general say which is better. In many cases the best answer to

would be the docile response at

. If Black next plays at

, White plays at

, and has a better result than by answering at

immediately (White almost is guaranteed two eyes already). If instead Black switches to

, as here, capturing with

provides better shape than the normal joseki would do.