Some thought about example 1 [#537]
Some thought about example 1
(2006-07-12 15:58) [#1888]
Example 1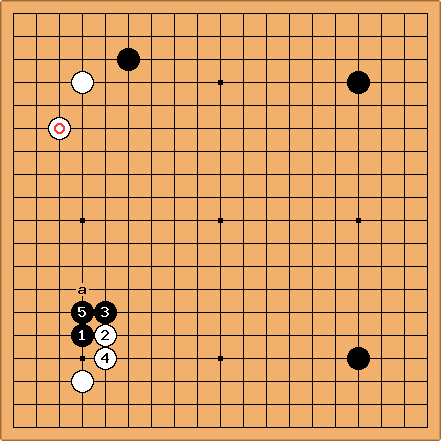 There are some other reasons why Imamura might have played the solid connection with

instead of playing at a. Because of the marked white stone on the left side the effect of Black's thickness on the left side is diluted. If Black had played at a then White's attachment to the left of

might become a good move. As it is, with

, that move is no longer possible. Another point: when Black makes the hanging connection at a White can initiate a pushing battle into the center which would negate the influence of Black's nirensei on the right, while the left side Black influence would be erased by the marked white stone. In the actual O - Imamura game Black ended up with useful central influence which combines well with the nirensei.
((no subject))
(
2006-07-12 17:12
) [#1889]
Alex: My question is, if he didn't like the result with a, and the centre is important, why not play the situational joseki with

one point to the right of

? I guess he felt it gave up too much profit to White?