Forum for Underneath Attachment
Question: Attach below ow underneath [#2209]
velobici
:
Question: Attach below ow underneath
(2010-03-01 15:24) [#7359]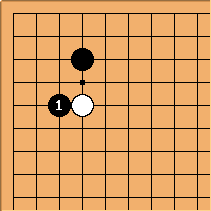 Step by Step Weiqi Classroom volume one page twelve gives this example of attaching underneath and uses this example to define the term 托.
Should this term be used for the example in the main page as well or is there a different term for that move ?
Unkx80
:
((no subject))
(
2010-03-01 15:37
) [#7360]
As far as I understand, "attachment underneath" or "underneath attachment" is any attachment below a stone, typically on the fourth line or below. Normally, I would not call this move a "tesuji".
The Chinese term 托 should mean the same as "attachment underneath", but its usage is often seen in the context where there is a supporting stone two or three lines away. Examples:
velobici
:
托 the chinese go term in the language box ?
(2010-03-01 21:58) [#7368]
Thank you. Would you agree that the parent page should display "托" for the chinese go term in the language box located in the upper right corner of the page?
HermanHiddema
:
my preference
(
2010-03-01 15:39
) [#7361]
Sensei's calls this

an "inside contact" (3-4 point, high approach, inside contact). Personally, I think "attach underneath" is a much better description, "inside" is not meaningful to me (inside what?).
Below would also be an option, but I prefer underneath. Underneath specifically refers to "directly beneath" or "close under" (

http://www.merriam-webster.com/dictionary/underneath gives those two meanings), so would seem appropriate for an attachment (can't get much closer than that).
Below, or under, is more appropriate for (non-attaching) invasions or slides, IMO.
Unkx80
:
Re: my preference
(
2010-03-01 16:21
) [#7362]
Actually "attach under(neath)" and "attach above" are my preferences too. However, there are a whole lot of joseki pages that use "inside contact" and "outside contact". These are probably terminology by Charles Matthews et al.. I am no authority when it comes to Go terms, particularly English ones. Also, I don't think it is a terribly good idea to do mass rename of these pages, some of which were created in 2003 or even earlier...
HermanHiddema
:
Re: my preference
(2010-03-01 16:44) [#7363]
I don't care enough to change it, too much work too little profit.
I think that the inside/outside terminology stems from joseki like: