markgravitygood
"When you study joseki, you lose two stones in strength -- anonymous"
Go Proverbs
Current Study Regimen
I am currently completing 50-100 games against like opponents with a simple strategy of Cut when I can Cut, Connect When I Can Connect. When catching stones, ask if I can catch it in a ladder or catch it in a net? This advice for beginners from "Lessons.." above.
These are the building blocks - The Fundamentals - of Go.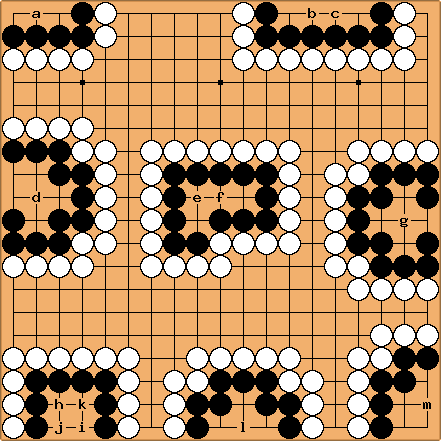 a - Unsettled Three
b,c - Alive
d - Unsettled (Rabbity Six)
e,f - Alive
g - Unsettled (Five-Space Star)
h,i/j,k - Dead (Square Four)
l - Unsettled (Pyramid Four)
m - Unsettled (Bulky Five)