Wedge - when the approach to 3-5 is possible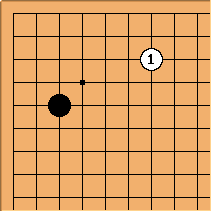 There are good reasons for not counting

here as an approach play, in relation with Black's 3-5 point stone.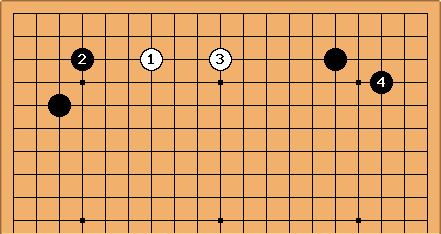 In order to appreciate White's play one must look at least at the whole side. Here, clearly enough,

functions as a wedge, but

and

permit Black ryojimari with

.[1]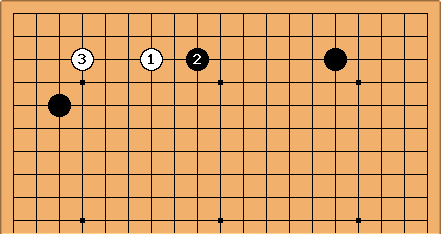 Clearly the positioning of

indicates that White would be happy in the overall position to settle a group with

here.
An example where this is known in pro play is in a Kobayashi variant: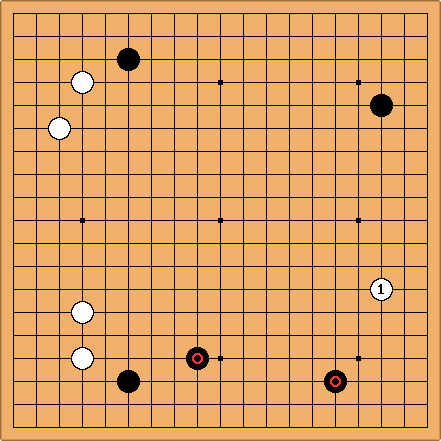 This is from Hong Min-p'yo-Ch'oe Ch'eol-han (B) 2003-03-07. White uses caution in playing into the formation of the

stones.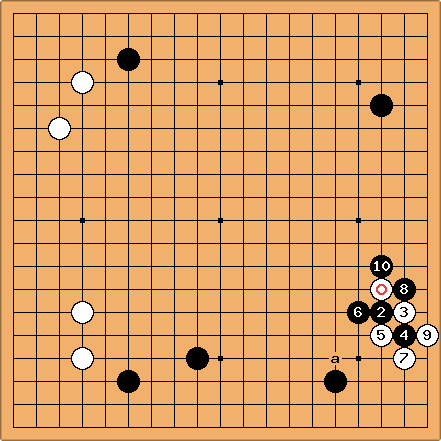 Black rejected the idea of simply taking the corner, instead applying a staircase technique with

and

. This forced the issue, since White here can hardly allow a big corner. In the end Wc is captured in a ladder, but White next can fight out at a.
---
[1]
The end position here would differ by one line from the Kitani wedge idea in the enclosure opening.