Wedge against Mark II Kobayashi

The Mark II Kobayashi formation leaves a space ten lines wide; so that there is the opportunity for White to play a wedge at either of the circled points.
This, however, rarely happens in pro games. It seems clear that if White plays a wedge, Black can play a checking extension from the right, for example at a, and White will extend towards

, which is low and solidly supported, so that White extending towards it makes Black's enclosure look good.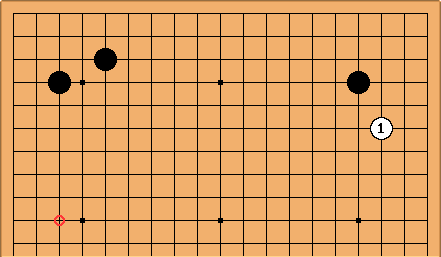 What is generally seen is that White first plays to limit the framework, in the important area near the marked point, or approaches Black's 4-4 point from the open side with

.