Tsumego From Games 56
From a game between two 4D on KGS. Among the spectators, the question arose of how to respond to White a. Is a response necessary? If so, where should Black respond.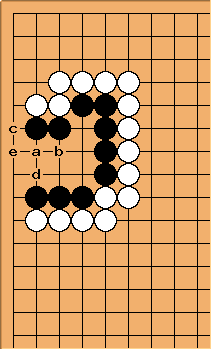 Dieter: Yes, Black should respond, and b suffices. The question for me is if c is also possible.
Velobici: During the game one suggestion was W a, Black d, White b, Black e.
Dave: You mean 1 - 4 here? Then

threatens a double atari at a.

prevents this but

is then seki. Note that if Black plays 6 at a,

kills Black.
Velobici: Indeed, the seki was one of the proposed results of the position in the kibitz discussion during the game.