Tsumego From Games 31 / Analysis
Charles I wonder if we have been given enough of the position.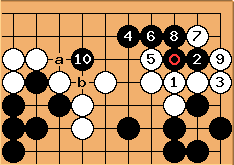 After

, it seems that Black should aim at

and

to get something here.


If Black hopes that this makes miai of a and b to cut, there ought to be some shortage of liberties on White's part, if Black is to get any advantage.
As things stand:
---