TsumegoFromGames101
From the 28th Meijin, game 5:
White: Yamashita Keigo Kisei, 9p
Black: Yoda Norimoto Meijin, 9p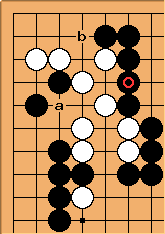 In the game, White played a in response to the marked black stone. In the commentary after the game, the pros said that White could live by playing at b.
How?
Go to /Solution.