TsumegoFromGames10/Attempts
---
Gorobei: (16k) Here are my novice guesses.
---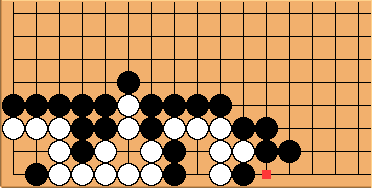 Splice: (23k) I'm just a beginner, but isn't the marked point a vital point? The four in the corner can only make 2 moku, not enough for 2 eyes. The middle part is not an eye. If Black plays at the marked spot, the right part is seki, right? And since it isn't connected to the rest of the shape (for White), the rest is dead.
If White plays at the marked spot, she can play inside to kill the two black stones and make two eyes. This does seem overly simple, so surely I'm missing something; please teach me :)

Dieter: Dear Splice, sorry that I posted such a simple problem. #:-7 You are absolutely right and you wouldn't be a 23k in my club.

Splice: (23k) If only solving tsumego was the only thing in go.. I'm afraid I am still very weak. And I'm down to 26k on KGS now :) Still, it is nice to know that I was correct in my analysis. I really didn't expect that; the problems on here are usually way over my head.