The value of two moves in a row
There is a pro game with an unusual situation in which for some time white can play two moves in a row and can choose any time during the game to do it.
Game featured in an article "The Value Of Two Moves In A Row" by Matthew Macfadyen in the British Go Journal, number 90, 1993. It's "one of (his) favourite professional games". I (Malcolm) don't know if we can reproduce Macfadyen's comments, but the game itself should be OK. RBerenguel: the PDFs are now available from the BGA website.

Here is he relevant file.
The game is Okumura Yasushi (Black I think) vs Omori Yasushi, in the final of the Shodan section of the 1987 Kisei.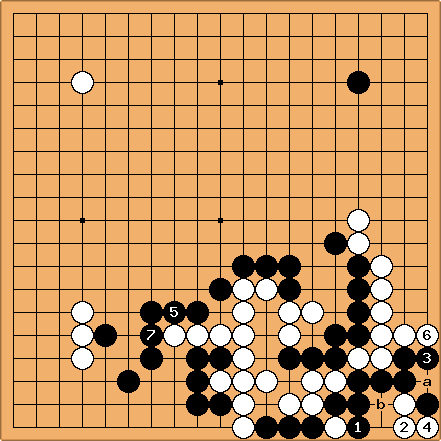 Black has killed the white stones, but has the threat of two moves in a row to deal with. White ends up resigning at move 252. For the complete game, the sgf is

here.
---
Tasky: why did W never use his 2-moves-in-a-row-privilege? couldn't he have killed the black group in bottomright and doing so saved his group?
MrTenuki: My guess is that White's "2 moves in a row" actually refer to the mannen-ko in the corner-- namely, in the form of a ko threat and its follow-up.