Squadron
The Squadron; Power In Numbers
A squadron is a name given to any closely packed combination of B2 Bombers and Escorts which face in the same direction. A squadron is unbelievably powerful due to the combination of one or more Bombers and the extra influence given by escorts. Squadrons are difficult to create however, and are considered to be at least 6P level strategies when used effectively.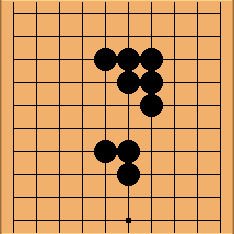 This is the simplest form of squadron possible. The Escort triangle extends the already monstrous influence of the B2 Bomber, and also gives it support in case (however unlikely) it gets into a tight spot.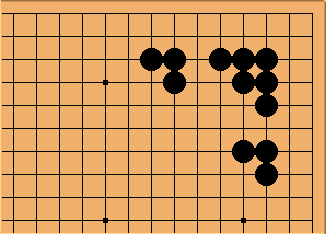 This is an even more powerful squadron, capable of destroying all but the strongest of opponents. Except when they too have their own squadron.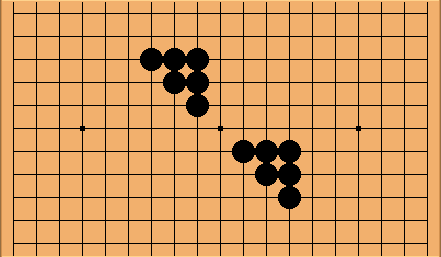 This is unbelievably rare, and a terror to behold. Two bombers in formation. This only occurs in games in which both players are working to build their own formations, and is otherwise all but impossible to form.
However... perhaps only once, this rare type of squadron has been created;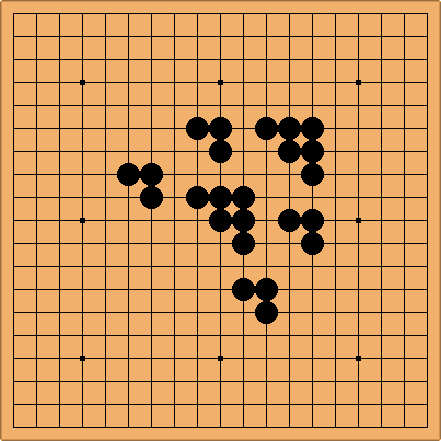 The special thing about this squadron is not its arrangement, but its sheer size. It radiates power almost visibly across the board, stunning all who behold it. Any formation of such size cannot be defeated under any circumstances without the use of advanced 9P tactics, or of course Nuclear Tesuji. It has earned itself the infamous name of "B2 Bomber Fleet"
---
cliftut; I hope I managed to cover this advanced strategy adequately, as I am not yet strong enough to begin using such strategies, or even think of using them. I suggest that these be left to the professionals, otherwise the overwhelming power of such tactics could prove self destructive.