Seki Without Shared Liberties
In the Finnish go-wiki, Matti Siivola

posed this problem: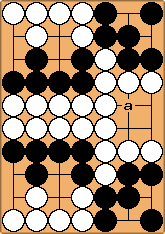 Paraphrasing the problem: The central white group is alive. Do the four points in the eye count as territory?
There are several complications in the position, and the results are heavily ruleset dependent.
The crux is, however, that the central group is alive in an "either-or" situation with the UL and LL corners, and can always force two eyes; however this costs a prisoner from the initial throw-in. Black can force white to collapse the either-or situation, but that will also cost black at least one prisoner. So neither one wants to start either ko in the corners, and furthermore, black doesn't want to keep throwing stones in the white eye to force white to start the kos, since prisoners are worth points.
The question then becomes: if black plays a stone inside the white eye, and both players pass, does the center count as a seki? Or is the black stone dead? Or should one player maybe owe points to the other, à la torazu sanmoku?
(The problem was posed as a challenge to a specific rule set proposition, so the answer will definitely vary according to the rules chosen.)
---
Just in case that felt too easy, Matti added another one where collapsing the either-or costs white some points.