scorpion shape
bugcat: I disagree with the removal of this article. This term is in current use in English language discussion. Perhaps not a lot on SL or L19, but on OSR, on Twitch, in AYD, NGD etc. If we delete this article then we should also get rid of all new terms, like the flying knife joseki, and what would be the point of that?
On a meta note, I feel obliged to remind you that right now, the public image of SL is that it's pretty out of touch with the modern Go community. The list of Youtube channels and the list of streamers have helped to remedy that, but the removal of the list of Discord servers (which I also opposed) was a step back.
Also, since Ethelor is the author, if you really have to take it out of the general namespace then you can just make it a subpage: Ethelor/ScorpionShape.
kmr - SL is not obliged to be in touch with what you call modern go community. I can bet that many older players who does not spend time on youtube channels never heard about it ( i guess there this name was born). So maybe more accurate would be "with part of modern go community". This shape is not widely recognized, i am pretty sure. Though if some ppl call this shape that way, i dont see any reason to not to have article about it.
Dieter: Let me put it differently. If this is indeed a common name, we need more references about its usage and its purpose. I've changed the template. The current page deals with aspects of influence and it including a hanging connection.
I don't recall the reason for the removal of discord servers. I'd be fine with such a list and won't remove again, if I did before.
---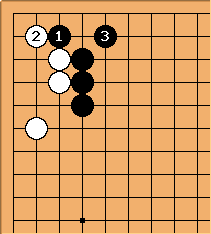 This is the scorpion shape, which is a relatively common shape in this position that black uses to defend themselves. Note that this can also take place when Black plays the one space jump instead of a knight's move.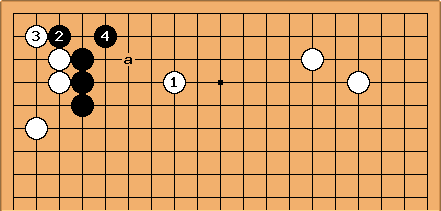 The best way to pressure Black is by not playing too closely, such as with 1, aiming to play at A later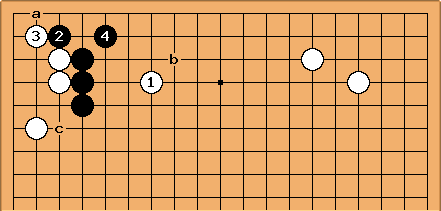 If White plays too closely to Black then Black will be able to react, aiming for A-C at the same time.
As such the scorpion is a very flexible shape. It can be very easy to underestimate Black's stones on the outside but it can be very difficult to "grab" Black's group. Like a scorpion, if you try too quickly to catch it then it will sting you with its tail.