More analysis of "Practical Endgame Test 1".
Solution is White wins by 4 points - find it at Practical Endgame Test 1 / Solution.
---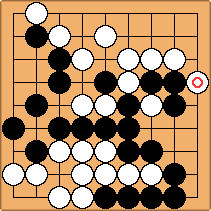 When Arno posted this position, I became fascinated by the question can Black force a better result than W+4? It took me a long time to think that I found the answer... --DaveSigaty
---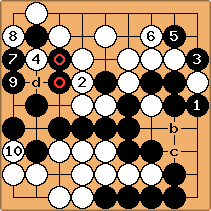 Black plays

because otherwise White's play at b is too damaging. White then goes back to

, giving Black the chance to capture at

. If White now plays on the left, Black plays

forcing

. White can not ignore

because Black at

followed by descending to the edge is a very big play (even bigger than capturing the

stones if White plays at d instead of

).
On the left side, Black at

is the right way to play. When White cuts at

it is worth 2 points for Black to ensure an eye on the left side. Otherwise he will have to play another stone on the right to prevent White's atari at c.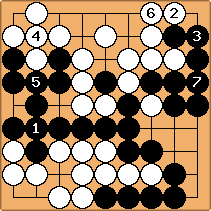 Black has two poins on the left and 10 points on the right.
White has four points at the bottom and 11 points at the top.
White wins by 3 points.
(NB: don't forget to count the captured stones.)
---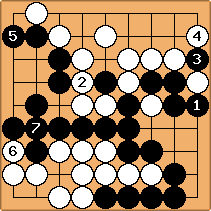 White can try blocking at

, knowing that she can win a ko fight. However, Black does not need the ko to improve on the solution diagram...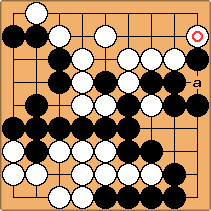 Now note that if White captures at a and connects, we have reverted to the solution diagram except that

has been added inside White's territory. In addition each side has captured one stone near a but they offset each other. Final result? W+3.
---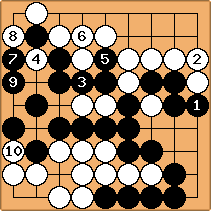 White plays

after reading out that she can't let Black capture here. However,

is a big play with the follow-up at

as absolute sente. Play continues to

but White's winning margin has been reduced to a single point.
---
To summarize: if White plays

in the first diagram Black can force a three point loss, instead of the four point loss in the correct solution.