pass-alive
A group is pass-alive if it keeps its alive status even if the defender continues to pass whenever the attacker makes a play.
Example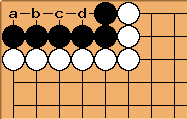 This group, although it is normally considered alive, is not pass-alive: If black keeps passing, the group can be captured by White - by playing at a, b, c and d for example.
Notes
RobertJasiek: For the Japanese 2003 Rules it has been necessary to reinvent this concept. There the definition is:
Consider a string of a player in a position. The string is pass-alive if for the hypothetical-strategy of the player that consists of only passes the opponent does not have any hypothetical-sequence that starts from the position, with the opponent, and has a capture of the string.
Note: This definition presumes some other definitions for the terms used therein.
Note: This term can be used as an alternative for the ambiguous unconditional life.
See also