Otake Hideo vs Cho Chikun - 2nd Meijin
Here is the end position from

2nd game of the 5th Asahi Meijin title match between Otake Hideo and Cho Chikun in 1980. White (Otake) has just resigned because Black managed to invade and live. Go World 22 has a special commentary on this game, revealing the last opportunities for White to win the game.
Does anyone see the path to life?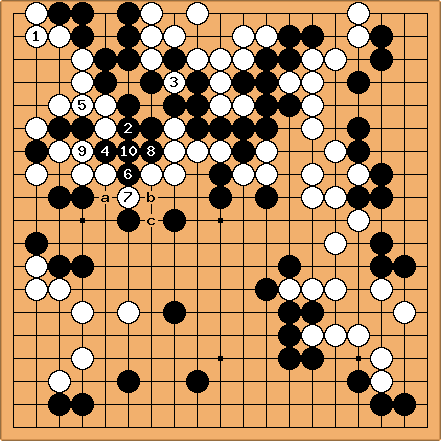 It seems to me that Black can now cut at a or b, and that Black also has a favorable double ko through 8. Am I correct here?
DaveSigaty: It looks like the issue here is what happens after White collapses the Ko by exchanging

for

and then connects at b. Black has to play a so White can push out at c. Black need not let this happen, the problem is

here - see below.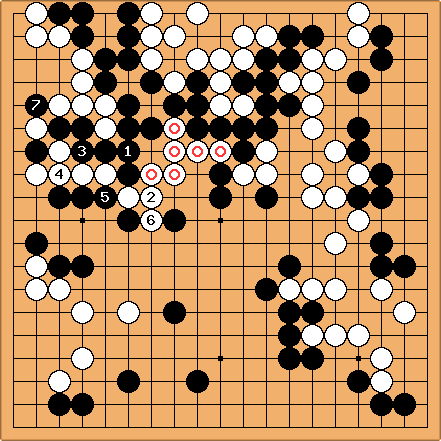 DaveSigaty: I think that

here is stronger than

in the diagram above. The immediate threat is to capture the marked stones with a play at 2. If White connects,

forces

,

forces

, and

captures either the corner or the side.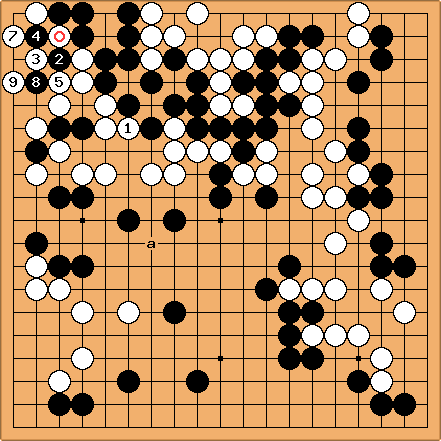 DaveSigaty: Going back to the beginning. White can also start at 1, I think. Black cuts in the corner but it looks like ko is the most that he can get. This is a very difficult ko for White to win though since Black has many local threats and nothing on the rest of the board looks big enough. Even if White tries to capture the left side with something like a, I think Black has time to answer.

---
Noel Herradura: The following diagrams were taken from the HnG games discussion at

http://www.bb.wakwak.com/%7Etsuchiya/golax/hikaru/ .
Noel Herradura: The marked stones are effectively killed.
Yes, but what happens if White plays the marked stone as 7? All White need do is deny Black an eye, not kill as soon as possible. --BlueWyvern
DaveSigaty: Let's see!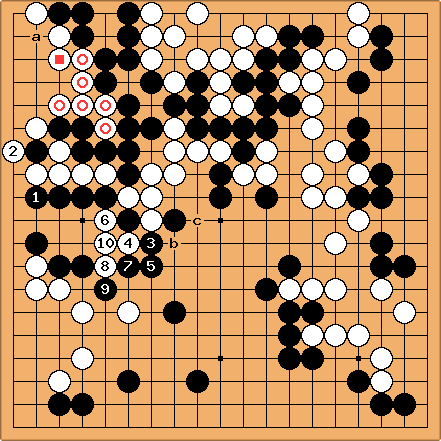 DaveSigaty: Connecting at the marked stone instead of a probably represents White's strongest resistence. However, after the sequence shown above, Black forces once at 1 then stops White pushing out with 3. If

(note that 4 at b is answered by Black c), drawing back with

looks best for Black. White can capture a stone with

but when Black bends around with

, White is trapped. White can struggle a bit more but cannot break out.