Large Handicap fighting 1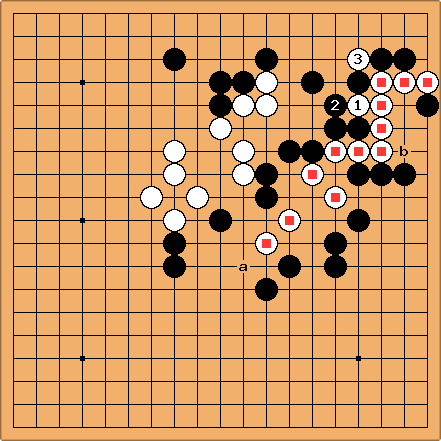 This position is taken from a 9 stone handicap game. Black needs to kill the

. We can assume, that all the stones on the outside are safe, and White will have no chance to make an eye around a. White has one eye in gote at b.
Conclusion: White must fight his way out, or capture something for an eye in sente. How should Black continue after

?


Charles

is a clear mistake, though; try dropping back.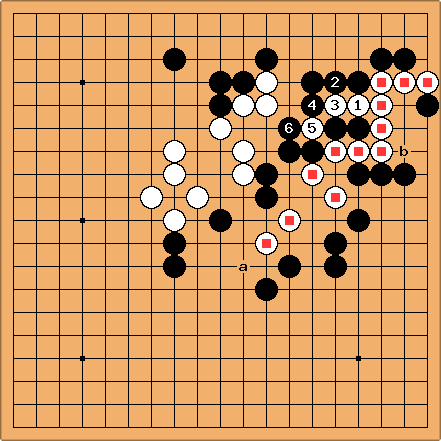 White is dead after

: two half eyes.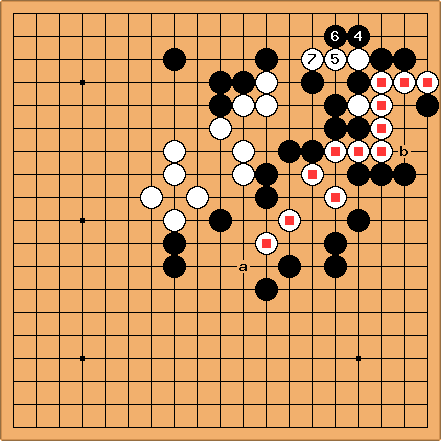 The real reading problem might start after

here.
Klaus: actually it starts after

, because there are no useful alternatives for white...
---
---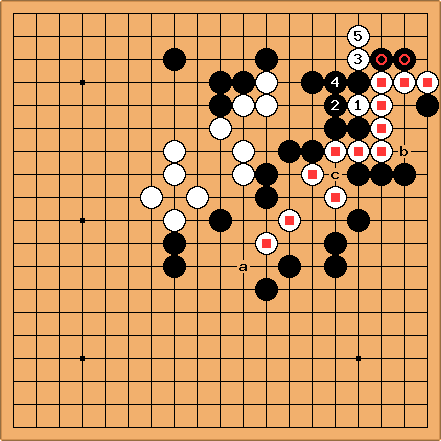 Pashley: In every position shown above, I would be tempted to play c and take what looks to me like sure profit in the center. I might not do it since the corner looks more urgent, but I'd be thinking of it.
As B in a handicap game, I tend to avoid the complex fights where W is likely to surprise me, look for some sort of balance between building moyo and securing territory (which I never get quite right, but maybe close enough) and take any sure profits I see.
In this position, with the corner apparently lost, c seems entirely obvious to me (about 8k). What am I missing here?
---
?Earlier?
Pashley The above discusses d and e for black move 2, and concludes that e is better. I think I'd play 2 as shown here and f seems plausible as well. Any comment from stronger players?