Kyu Exercise 14 / Solution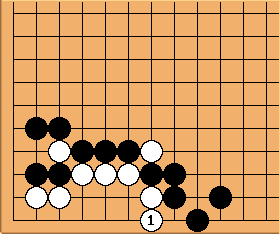 SnotNose:

essentially makes a Comb Formation, which is alive. I do not think this solution is unique but I haven't explored all branches.

Main line of the solution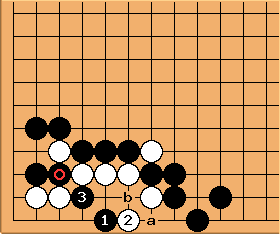 SnotNose:

is the eye stealing tesuji with respect to

. Any move other than

cannot work (if White a, Black b and if White plays anything other than

, a, or b, Black can link up with a himself). If

at b, then Black plays at

, White plays a, Black plays

.
But

does not work since

threatens a snapback at b and creates a shortage of liberties for White. White dies.
Alternative - inferior solution
Malcolm If I'm not mistaken,

at d12[1] also kills, but this is not as good as the previous diagram. Here are some variations: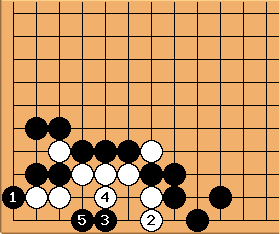 This leads to the result in dia. 2.2; White is dead.
[1] Using Audouard coordinates
---