Kata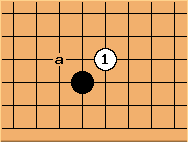 1.Kata 肩 means shoulder.
1a) A point diagonally one-line higher than a stone (a). The term for a shoulder blow (

) is katatsuki.
---
---
2. Another character, kata 型 means basic pattern or form. The word is generally vocalized in compounds. For example, parallel fuseki is heikou-gata fuseki, or new pattern is shingata.