Hon Akiyoshi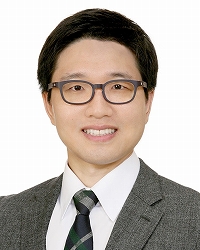 홍석의
洪 爽義 (jp.), 洪 奭義 (tr.), 洪爽义 (sm.)

Hon (Hong) Akiyoshi [1]
Hong Seok-eui, Seokui; Hon Soggi, Sogi
b. 1986-08-10
Kansai Ki-in professional (Korean)
1p: 2015-07-01, 2p: 2017-11, 3p: 2019-10, 4p: 2021-01 (top prize earner)
In 2007, in his early 20s, he was the Open Champion at the European Go Congress.
From 2013, he played several events with professionals as a 7d amateur, possibly the strongest in Japan. In late 2013, he played the 51st Professional vs Amateur Honinbo game against Iyama Yuta (which he won), and in early 2014 he faced Iyama again in the 8th Professional vs Amateur Meijin game (which he lost). In late 2014, he challenged Iyama for a third time in the 52nd Pro-Am Honinbo game (which he also lost). Of course, in order to qualify for these events he had to first become the 2013 and 2014 Amateur Honinbo, and also the Amateur Meijin.
He qualified as a professional exceptionally late, at 28 years old. It seems likely that a special exception was made, as (iirc -- bugcat) players that old aren't usually allowed to take the professional examination.
For a 4p, he is currently (at the end of 2021) very high rated on Go Ratings, at #203 in the world. He might be the highest rated player under 5p.
On his ki-in page, he describes his style extremely modestly as "中途半端", which Jisho translates as unfinished; incomplete; half-baked; half-hearted. Perhaps immature is meant.
---

Google Knowledge Graph ID: /g/11b_1m9p9w

Ki-in

Ko. Wiki

Go4Go

Go Ratings

Waltheri
(He is actually mainly known by his Korean name, as Hong Seok-eui / Seok-ui / Seokui. Then again, Hon Akiyoshi is the name given by the Kansai Ki-in, with which he is affiliated. A renaming of the article is, of course, possible.)