Hikaru Problem 1 / Solution
HolIgor: I knew the first move from the manga. However, I really enjoyed solving it.
---
Resulting in shortage of liberties.
---
---
---
---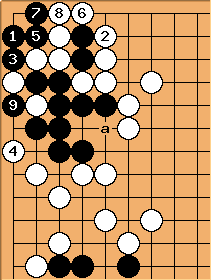 Oneplaygo(13k)?: Well here is the solution for this problem. Took me a little bit of a glance to get to this answer and why. But it seems quite simple. W would play at A next since black will no longer have any big moves on this diagram after A is played.